NORBIT is proud to announce the recent supply of iWBMSh Integrated Multibeam Survey Systems to Peel Ports Group. With NORBIT iWBMSh capability, Peel Ports are now benefiting from the latest generation sonar technology performance, providing survey capability both to their Mersey based Survey Vessel 'Royal Charter' plus their upcoming delivery of an L3Harris ASV Ltd vehicle.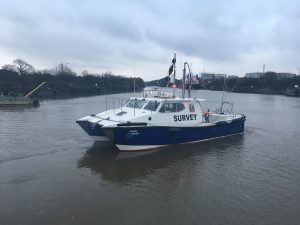 With a truly fully integrated and tightly coupled multibeam survey system, the NORBIT iWBMSh now commissioned on the Royal Charter has replaced the vessels previously installed multibeam system. With the vessel now delivering high quality bathymetric and backscatter hydrographic data, Peel Ports have additionally installed a NORBIT iLiDAR laser scanner to provide further survey capability in their often interesting and challenging survey environments.
John Fraser from NORBIT commented "Peel Ports are expert Hydrographic Surveyors, who have evaluated technology and identified ambitious operational challenges for their current and future survey scopes. We are delighted to supply our iWBMSh systems plus support to their professional survey operations. Through the recent commissioning process, Peel Ports demonstrated the expected and exacting high standards for all their deliverables. We are delighted to provide our multibeam systems and professional client-focused support, so we very much look forward to working closely with Peel Ports in the years ahead."
About NORBIT Subsea
NORBIT Subsea designs and develops wideband multibeam sonars both for bathymetric and forward-looking market operations. With the spirit of explorers, NORBIT engineers have pioneered groundbreaking solutions within a wide range of applications. Our products provide wide-coverage monitoring combined with high sensitivity and accuracy.
NORBIT Subsea within NORBIT Oceans is part of NORBIT ASA, a company listed on the Oslo Stock Exchange and a global provider of tailored technology to carefully selected niches. The company's business is structured to address its key markets; Oceans, targeting the global maritime markets, Intelligent Traffic Systems (ITS), offering connectivity solutions for truck applications, and Product Innovation and Realization (PIR), with in-house multidisciplinary R&D and manufacturing.
Based in Aberdeen, NORBIT's UK office provides sales and support for NORBIT Subsea and partner companies.
For further information please contact [email protected] or reference www.norbit.com/subsea
About Peel Ports
Peel Ports Group Limited provides port facilities, cargo handling, and marine-related services. The company owns and operates 6 port authorities around the UK and terminal in Ireland and Holland as well as owning BG Freight- an expert logistics company.
Peel Ports Group Limited was formerly known as Peel Ports Shareholder FinanceCo Limited and changed its name to Peel Ports Group Limited in June 2013. The company was founded in 2006 and is based in Liverpool, United Kingdom.