As of 24 March 2021
ESG is the consideration of environmental, social and governance factors in the day-to-day operations of the group. NORBIT aims to create value for customers, shareholders, employees and the society at large; first and foremost, by producing a variety of specialised products and solutions that support the customers' sustainability strategies.
UN GLOBAL COMPACT
In 2020, NORBIT was approved membership in the UN Global Compact, the world's largest sustainability initiative. Through participation, the group confirms that it supports the Ten Principles of the UN Global Compact on human rights, labour, environment and anti-corruption.
NORBIT is committed to making the UN Global Compact and its principles part of the group strategy, culture and day-to-day operations, and to engage in collaborative projects advancing the broader development goals of the UN. As part of this commitment, NORBIT has committed to report on practical actions that the group has taken (or plans to undertake) to implement the UN Global Compact principles, as well as a measurement of outcomes of these actions. NORBIT submitted its first Communication on Progress Report in March 2021, describing the undertaken activities and outcomes in 2020. This report can be found on UN Global Compact's website www.unglobalcompact.org.
As part of the progress report to the UN Global Compact, NORBIT has identified four sustainable development goals (SDGs) that the group contributes to today and will continue to work towards in the future.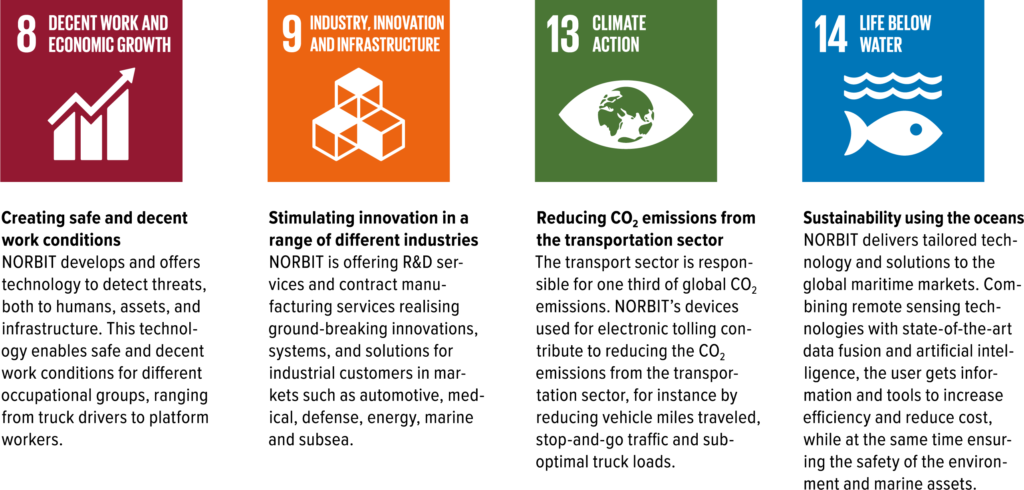 ENVIRONMENT
NORBIT's ambition is to create environmental value both in terms of acting responsible in the group's own value chain (internal focus), as well as developing and selling products that contribute to solving environmental challenges for customers and the society at large (external focus). "Doing more with less" is the group environmental tag, reflected in the group's Code of Conduct. The following information provides examples of standards the group has in place and initiatives that are ongoing relating to environmental considerations. As part of the progress with the UN Global Compact, NORBIT intends to identify and implement further relevant activities in line with SDG 13 and 14 as the priority areas for the group.
Increasing focus on environmental monitoring
Over recent years, NORBIT Oceans has built up a strong presence within environmental monitoring through its SeaCOP Surveillance System. The purpose of the system is to give the user a situational awareness, information and tools to increase efficiency and reduce cost, at the same time ensuring the safety of people, the environment and marine assets. In 2020, sales of such solutions represented approximately 20 per cent of NORBIT Oceans' revenues. NORBIT also acquired the SeaDarQ Radar System in 2020, strengthening NORBIT´s position as a leading global provider of solutions for integrated environmental solutions.
Certifications
NORBIT has three production facilities: NORBIT EMS Røros, NORBIT EMS Selbu and NORBIT Kabelpartner. NORBIT EMS Røros and NORBIT Kabelpartner are certified according to the international standard that specify requirements for an effective environmental management system, ISO 14001. The three manufacturing sites have different KPIs defined for electricity and water consumptions.
Energy efficiency
In 2020, NORBIT completed the expansion of the production facility at Røros. The new facility was built with energy efficiency in mind, with thermal energy storage as the main energy source.
Vendor assessment
In 2020, NORBIT started implementing a new supplier quality management system with general quality agreement for suppliers and business partners regarding environmental issues. The system is expected to be rolled-out for the entire organisation in 2021.
SOCIAL
At year-end, NORBIT had 261 full- and part-time number of employees in 8 number of jurisdictions. NORBIT strives to protect health, safety, human rights, labour rights and maintaining a high ethical standard in its business concept and relations with customers, suppliers and employees. NORBIT's Code of Conduct describes the group's policies and goals related to these standards.
Labour rights and working environment
NORBIT complies with established standards and employment legislation. The Code of Conduct is founded on key UN and International Labour Organisation (ILO) conventions and documents. NORBIT employees have the right to join or form trade unions of their own choosing and to bargain collectively. Workers representative roles are established and such employees have access to carry out their representative functions in the workplace. NORBIT describes employees' rights, compensation, benefits, and responsibilities through several policy documents.
Equality, diversity and respect
NORBIT is a global company with offices and presence in 14 countries worldwide and employees have a broad and diversified background. Different expertise and experience contribute positively to NORBIT's development. NORBIT shall promote a working environment characterised by equality, diversity, and mutual respect. NORBIT does not accept any form of discrimination on the basis of factors such as gender, age, ethnicity, religion, disability, sexual orientation or political conviction, nor does NORBIT accept harassment, including unwanted sexual attention.
NORBIT's organisational culture shall be characterised by openness and good internal communication so that any misconduct or problems can be addressed, discussed, and resolved in a timely manner. NORBIT's employees are encouraged to report any incident of discrimination.
Employee relationship and employee satisfaction
NORBIT's main asset is the knowledge and skills of its employees and NORBIT gives each employee considerable scope in making decisions regarding his or her work. This implies a large degree of freedom, but it also places substantial responsibility on the employees. According to an employee satisfaction survey conducted during 2020, the working environment in the group is perceived as very good.
Health, safety and security
"Safe under pressure" is one of NORBIT's core values. A safe, secure, and healthy working environment is a key priority in the group, and this applies wherever the group operates. The specific business units have defined safety routines and work instructions for use of potentially harmful tools.
NORBIT has defined specific KPIs for HSS related injuries and sick leave. NORBIT has a vision of zero injuries, and in 2020 no significant injuries or accidents were recorded. The goal for sick leave vary from <2.5 per cent to <4.0 per cent for the different business units. The group had 3.5 per cent sick leave in 2020, compared to 2.6 per cent in 2019. Sick leave within the Norwegian workforce is lower than the country average of approximately 6 per cent (as of Q4 2020) according to Statistics Norway.
Ethical standards
NORBIT maintains a high ethical standard in its business concept and relations with customers, suppliers and employees. The following ethical guidelines are practiced in the group and apply to all employees:
Personal conduct: All employees and representatives of the group shall behave with respect and integrity towards business relations and partners, customers and colleagues. The executive management team has a particular responsibility to promote openness, loyalty and respect.
Conflict of Interests: Employees or representatives shall avoid situations in which a conflict between their own personal and/or financial interests and the group's interests may occur.
Confidential Information: Employees or representatives of the group possessing confidential information related to the group shall conduct themselves and safeguard such information with great care and loyalty and comply with any and all signed confidentiality statements.
Competition: The group supports fair and open competition. Employees and representatives shall never take part in any activities that may constitute a breach of competition legislation.
Influence: Employees and representatives shall neither directly nor indirectly offer, promise, request, demand or accept illegal or unjust gifts of money or any other remuneration in order to achieve a commercial benefit. NORBIT has zero tolerance for any form of corruption, bribery, fraud, or dishonesty. This means that NORBIT has no tolerance for paying, facilitating, or receiving any bribes or facilitation, payments, extortion, kickbacks or any other improper private or professional benefits to customers, agents, contractors, suppliers or employees of any such party or government officials.
Whistleblowing
Whistleblowing is an important channel for receiving information about negative issues so that they can be properly corrected and followed up. NORBIT encourages its employees to report suspected or actual occurrences of inappropriate, unethical, or illegal events or breaches of the Code of Conduct. NORBIT has therefore drawn specific guidelines for whistleblowing, including whom to report to, how to report and how the company is required to act on the report.
Community engagements
NORBIT has been a sponsor of several local sport associations and student organisations for many years. In particular, NORBIT has contributed with both monetary support and non-financial initiatives in order to stimulate the engineers of the future to become interested in innovation and development. In close collaboration with various educational institutions, NORBIT is part of inspiring the new generations of engineers to explore the technology area in search of new knowledge.