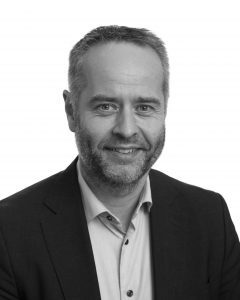 Per Jørgen Weisethaunet
Per Jørgen Weisethaunet is the current Group CEO of the Company, which position he has held since 2001. Weisethaunet has been the co-owner of NORBIT since 2008. Further, Weisethaunet has 3 years experience as Project Engineer R&D, misc electronics design, and 2 years experience as Operations Manager in Cargoscan Metler Toledo. In addition, Weisethaunet has been serving as chairman of the board of several companies, inter alia, of NORBIT Group since 2016 and both chairman of the board and board member of various NORBIT Subsidiaries.
Education: Weisethaunet hold a Master of Science in RF & Microwave electronics from the Norwegian University of Technology (currently known as NTNU Business School), a Bachelor of Science in electronics from Trondheim University of Engineering (TIH), Business Economics from Trondheim Economic University center of competence (TØHK) and Supply Chain Management from BI Norwegian Business School.
Number of shares in NORBIT ASA as of 24 September 2020: 6,925,695.