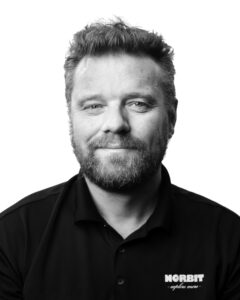 Arild Søraunet
Arild Søraunet has held the group CTO position since 2018. Mr Søraunet was previously the business manager of the R&D Services part of the business segment PIR, referred to as ODM. Further, he has experience as CEO of NORBIT Subsea AS from 2011 to 2016, project manager of NORBIT ODM from 2002 to 2011, development engineer in Cavotec Micro-Control AS from 2000 to 2002 and development engineer in Kongsberg Defence & Aerospace AS from 1997 to 2000. Mr Søraunet holds a master of science in applied physics from the University of Tromsø and a bachelor of science in electronics from Levanger College of Engineering.
As at 28 October 2022, Søraunet held 721 989 shares* and 15 340 RSU's in NORBIT.
* Number of shares is including shares held by related parties.