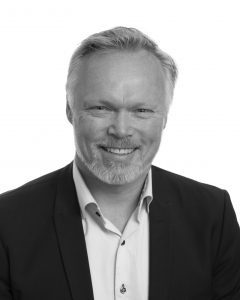 Trond Tuvstein
Trond Tuvstein (born 1972) is currently the CEO of Trym, a real estate and construction company. In addition, Tuvstein holds the position as director in Norges Sjømatråd AS and Måsøval Eiendom AS. Before Trym, Tuvstein was the CFO of SalMar ASA in the period 2013 to 2019. Prior to that, he spent two years as the company's Head of Investor Relations. In addition, he has extensive accounting experience, having worked in partner positions in audit firms, PricewaterhouseCoopers (PWC) and Systemrevisjon. Tuvstein's core competencies include financial reporting, strategy and financing, as well as mergers and acquisitions.
Director since May 2019, re-elected 4 May 2023 for a period of two years. Chair of the audit committee.
Tuvstein attended 13 board meetings in 2022 (100 per cent attendance rate).
Number of NORBIT shares* at 30 June 2023: 32 894
* Number of shares is including shares held by related parties
Current directorships and senior management positions
Trym AS, CEO
TTU Invest AS, chair
Micaelsen Eiendom AS, chair
Trym Næring AS, director
Næringsbygg AS, director
Trym Bygg AS, director
Måsøval Eiendom AS, director
Norges Sjømatråd AS, director
Tes AS, director
Trym Bolig AS, director
Brøset Utvikling, deputy director