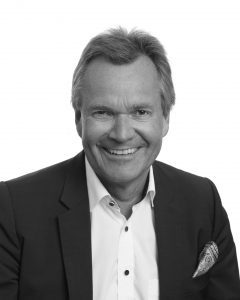 Finn Haugan
Finn Haugan has experience as CEO of Sparebank 1 SMN from 1991 to 2019. During this period, Sparebank 1 SMN's equity certificates were listed at Oslo Børs, Sparebank 1 Gruppen was established and the bank's total assets grew from NOK 16 to 165 billion. Before joining Sparebank 1 SMN, he held managerial positions at Forretningsbanken and Fokus Bank, his final two years as Deputy CEO. Haugan has experience from several board positions, including as chairperson of Sparebank 1 Gruppen, the industry organization Finance Norway and Norwegian Bank's Guarantee Fund.
Education: Haugan holds a Master of Business administration from BI Norwegian Business School.
Haugan is the also the Chairperson of NORBIT's Remuneration Committee.
Number of shares in NORBIT ASA as of 24 September 2020 including related parties: 67,289.
Current directorships and senior management positions
Okea ASA, Board member
Vipps AS, Board member
Fremtind Forsikring AS, Chairperson
Sparebank 1 BV, Chairperson
BN Bank ASA, Chairperson
Elekt AS, Chairperson
Sinkaberg-Hansen AS, Chairperson
Bogermestervingen AS, Chairperson
MiFi AS, Board member
Kavli institute for neuroscience, Board member