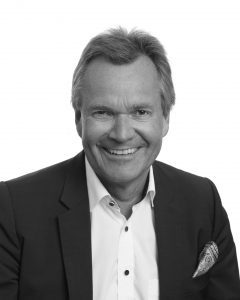 Finn Haugan
Finn Haugan was the CEO of Sparebank 1 SMN from 1991 to 2019. Sparebank 1 SMN's equity certificates were listed on the Oslo Stock Exchange during this period. Sparebank 1 Gruppen was established, and the bank's total assets grew from NOK 16 to 165 billion. Before Sparebank 1 SMN, Haugan held managerial positions at Forretningsbanken and Fokus Bank, his final two years as deputy CEO. Haugan has experience from several board positions, including chair of Sparebank 1 Gruppen, the industry organisation, Finance Norway, and Norwegian Bank's Guarantee Fund. He currently serves as chair of Sparebank 1 Sør Øst Norge (listed company), Sinkaberg Hansen AS, Forte Fondsforvaltning AS, Elekt AS, Solon Eiendom AS and is a director of OKEA ASA and LL Holding AS.
Chair since May 2019, re-elected 4 May 2022 for a period of two years. Chair of the remuneration committee.
Haugan attended 15 board meetings in 2021 (100% attendance rate).
Number of NORBIT shares* at 24 March 2022: 92 498
* Number of shares is including shares held by related parties.
Current directorships and senior management positions
Sparebank 1 Sør Øst Norge, chair
Sinkaberg Hansen AS, chair
Forte Fondsforvaltning AS, chair
Elekt AS, chair
Solon Eiendom AS, chair
OKEA ASA, director
LL Holding AS, director